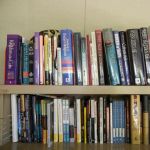 Most people follow one religion for their entire lifetime, that being the religion they were born into, preselected for them by their parents. For most people it is easy to stay in this religion simply out of comfort and never having to question it. However in a world with multiple religious choices, the odds are stacked against the fact that we would be born into the right one for us.
How can anyone of us state with 100% conviction that our religion is right and true until we have honestly explored other religious options? As such there are some clear pros and cons on changing religions.
Cons
Fear of being wrong. Many religions use fear as a way of controlling people. Because of their fear many people are scared of looking into alternatives. Additionally as this fear still grips people it tricks them to coming back to their original religion, thus any change is made harder.
Loss of friends. Under pressure, people are often told they cannot be friends with people who have left their church or religion. Thus a person who leaves a religion may find themselves suddenly without those people they thought were their friends.
Hard to find a spiritual leader. In some areas a person may not be able to find help in pursuing the religion they now wish to follow. This is very true in places were a particular religion has had a strong hold for many years.
Bashing. As much as many religions claim to be tolerant of others, few actually are. Most of the time when people of your new religion find out what your old religion was, they will make fun of it and of other followers within it. This may be hard for a new convert to understand, especially if they still have family in the other religion.
Pros
Changing religions can be very empowering. Most religions try to do everything they can to keep people from leaving, thus leaving so can be very spiritually and emotionally freeing.
A sign of intelligence. A dumb being follows what they are told is true, never questioning it. A smart one is willing to take a risk that they are not being given all their options and takes the matter into their own hands.
Well rounded. It is easy to judge another religion before somebody has lived it. By experiencing another religion a person becomes more rounded and gains a deeper understanding, of both religions, as a result.
Playing the odds. Although since childhood most people are taught their own religion is the right one, chances are it is not. By experiencing other religions a person may get a real feel for what is right and what is wrong. Eventually they can make a more educated guess as to which one they feel is the best.
Honesty. Many people are viewed as hypocrites when they claim to be of one religion but do not follow it fully and completely. Rather than being a person who only follows some rules it may be morally better to find a religion whose rules are better suited to a persons actual lifestyle.
Ultimate Fulfillment. The best and most rewarding reason for leaving one religion to explore an other is for personal fulfillment. Why should a person stay in a religion that is not satisfying to them as a whole being when there are so many other religions to pick from? Why should a person stay in a religion that has had its grasp on them all their life and not seek out other opportunities to learn and grow?