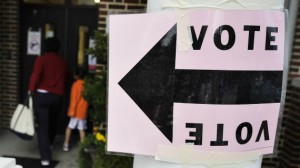 One of the most alarming trends initiated by the Republican Party is a unified and deliberate effort to suppress the vote of minority and senior citizens.  The creativity of Republicans in implementing novel and unique ways to initiate voter suppression is well funded by anonymous sources and ranges from flawed legislation to deceptive practices designed to intimidate and frighten the minority electorate.
With the Republican Party in control of many state houses, 25 laws and two executive actions to restrict voting rights have passed in 19 states since the beginning of 2011. The most common new voter suppression laws require voters to show certain government-issued photo identification cards.  Republicans defended these laws when News21 presented its data. "Whether you have proof of it or not, what in the heavens is wrong with showing an ID at polls?" said Bill Denny, a Republican state representative in Mississippi who sponsored his state's voter ID bill.  So why is the Republican Party pushing for ID cards so hard? One obvious answer: voter suppression.
The stated rationale behind this unprecedented Republican campaign to require certain restrictive voter ID at the polls is utterly baseless. Republican legislatures were increasingly imposing strict ID requirements for voters, supposedly to discourage in-person voter fraud. But voter fraud is "virtually non-existent" according to the extensive public-records search conducted by News21, a nonpartisan investigative news project funded by the Carnegie and Knight foundations.  Researchers filed more than 2,000 public-records requests and reviewed nearly 5,000 court documents, official records and media reports to get their information. They identified 2,068 alleged cases of voter fraud since the year 2000, a period during which there have been more than 600 million votes cast in presidential elections alone. That, the study noted, is an "infinitesimal amount." It also showed a total of 10 cases of in-person voter fraud during that period.
The Florida Republican National Committee (RNC) and in other important swing states concerning voter fraud and voter suppression is incredible.  Since President Obama won the 2008 presidency with an overwhelming support from the minority community, the RNC has been relentless in pursuing the issue of voter fraud.  The RNC has also been leading the charge in many state legislatures to enact unprecedented voter suppression laws allegedly as a necessary remedy to protect the public from the cruelty of voter manipulation and mischief.  However, the RNC has now been exposed as the real perpetrator of both voter fraud and voter suppression.
Strategic Allied Consulting is the company founded by Nathan Sproul, the former executive director and leader of the Arizona RNC.  In 2012, Sproul was hired by the RNC and the Romney campaign to do voter registration in North Carolina, Florida, Virginia, Nevada and Colorado. Sproul was paid more than $3 million this year by both the RNC and the Romney campaign to do voter registration drives in those five states.  In Florida, from January through September 2012, Strategic Allied Consulting was paid $1.3 million.
The Florida Department of Law Enforcement has launched a criminal investigation of Sproul and Strategic Allied Consulting because of allegations of criminal acts of voter fraud across the state of Florida including dead people being registered to vote as well as numerous other fraudulent voter activities.  As soon as the criminal allegations surfaced, the RNC's national office fired Sproul and his firm.  A spokesman for the Republican National Committee said, "We take the integrity of elections extremely seriously. We have zero tolerance for even the mere allegation of impropriety."  That sounded good coming from the RNC in an effort to distance itself from the more than 220 allegations in 10 different counties relating to Sproul in Florida.
The Republican National Committee has had a relationship with Sproul even though there were allegations of voter tampering and other irregularities since 2004. I wonder why there was no "zero tolerance" by the RNC at that time!  Voter fraud, as the Republican Party is reminding people on large billboards in Ohio and in other states where minority voters are concentrated, is a criminal offense.
Sproul and his companies, which have been directly linked to voter suppression, deception and fraud, have been paid more than $21.2 million by the Republican Party over the past nine years. Unfortunately, there are conservative forces who want to distort, dislodge, and blemish the outcome and integrity of the 2012 elections to satisfy their hatefulness and distain for President Obama so Sproul was selected.
The most contentious cases for voter ID laws were overturned in several states yet advocates claim that in battleground states including Ohio, Nevada, Florida and Pennsylvania, other voter suppression efforts are still underway.  AFL-CIO executive Vice President Arlene Holt Baker told reporters during a conference call that there are examples of intimidation surfacing including billboard advertisements on voter fraud.  The billboards have already appeared in Florida and Ohio.  Union lawyers claim these ads are propagandizing the message that those who commit voter fraud will be incarcerated for two to three years.  "People absolutely know that, but when you start to have that kind of intimidation it could be pretty threatening to you," said Baker.
Pennsylvania Commonwealth Court Judge Robert Simpson halted a photo ID law that would have obligated voters to show identification on Election Day.  Election officials can still ask for photo identification but they will not be able to prevent people from voting if they don't have a photo ID.  However, several public utilities in the state are sending out newsletters to their customers that were printed prior to the law being enjoined telling customers that they must have a valid photo ID in order to be permitted to vote.  For example, PECO admitted on Oct 17, 2012, of sending faulty Voter ID information to 1.3 million customers in seven Pennsylvania counties.  You do not need a photo ID to vote in Pennsylvania.
Currently, eleven (11) courts have blocked or blunted state voting suppression laws.  In Florida early voting and voter registration drives have been restored as a result of court intervention.  Ohio, however, is still attempting to suppress voter turnout despite three unsuccessful appeals through the court system.
John Hustad, Ohio Secretary of State, continues his determination to suppress the minority vote.  This week, the U. S. Supreme Court denied Secretary Hustad's appeal and in effect, ordered him to implement the lower court's directive by restoring early voting.  Hustad has now decided that since he couldn't get his way through the court system, he would take an administrative action by severely restricting the time of early voting during the last three days leading to November 6th.  Instead of allowing a total of 24 hours for the polls to be opened during this period, Secretary Hustad decided to limit the hours to 16.
Because of the huge African American turnout for President Obama in 2008, the Republican Party has decided to "pull out all of the stops" to prevent a large minority turnout for Obama for this election.  They tried through legislation that was eventually overturned by the courts and now through voter intimidation and scare tactics with large billboards in African American and Hispanic neighborhoods about criminal penalties for voter fraud or the requirement for IDs even though they are not required.  They are even using Robocalls to minorities informing that they can vote by telephone which is a lie, as well as informing minorities via print and telephone media of false election dates.
The 15th Amendment to the Constitution declares that the "right of citizens of the United States to vote shall not be denied or abridged by the United States or by any state on account of race, color, or previous condition of servitude." However, it would take the passage of the Voting Rights Act of 1965 before the majority of African Americans in the South were registered to vote. Thus, voting is a fundamental right for all Americans.
It is ironic at how much the Republican Party emphasizes the importance of following the Constitution yet their voter suppression schemes have resulted in a blatant and egregious violation of the Constitution.  It makes you wonder whether the Republican Party's faithfulness to the founding principles of this country as articulated by the Constitution is genuine or fabricated as many of their other principles.  The philosophy of the Republican Party for this election appears to be that if they can't get Romney elected honestly, they will attempt to get him elected through a series of contrived and dishonest means.  Not only is it pathetic, but UN-American.