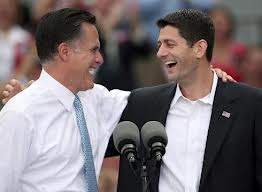 On Saturday, August 11, 2012, Willard Mitt Romney selected Congressman Paul Ryan as his vice presidential candidate.  Ryan was born on January 29, 1970, and has represented Wisconsin's 1st congressional district since 1999.  He is often cited for his radical economic views especially his proposed changes to Medicare.  As an option to the 2012 proposed budget by President Obama, Ryan introduced, "The Path to Prosperity" in April 2011, which included drastic changes to Medicare.  Then in March 2012, he helped to introduce the similar, "The Path to Prosperity:  A Blueprint for American Renewal" in response to President Obama's 2013 budget.
Ryan's Blueprint doesn't balance the budget until approximately 2030, and adds more than $14 trillion in new debt by then according to the Congressional Budget Office.  Even Ryan acknowledges that his plan adds $5.7 trillion to the debt in the next decade alone.  The Ryan plan passed the House 228 to 191 with no Democratic votes and 10 Republican defections.  More than three-fifths of the cuts proposed come from programs for low-income Americans.  This means billions of dollars will be lost for job training for the displaced, Pell grants for students and food stamps for the hungry. These cuts are so severe that the nation's Catholic bishops raised their voices in protest at the shredding of the nation's moral obligations.
Romney had already praised the Ryan budget as "excellent work," but until now the vagueness of his own plans provided some room to distance him from the Ryan proposal or to take a non-committal position.  As a result of his selection, Romney is now co-owner of the Ryan proposal.  Here are a few facts concerning the new Romney-Ryan-budget proposal:
Medicare:  Starting in 2022, the proposal ends the current Medicare program for all Americans born after 1956 and replaces it with a new Medicare voucher program.  In addition, the eligibility age increases by two months per year until it reaches 67 in 2033.  After 2022, the current Medicare program ends for all people who have not already enrolled.  New enrollees after 2022 would be given a premium support system (voucher) to help them purchase private health insurance.  Costs not covered by the voucher must be paid out of pocket.
Medicaid:  Starting in 2013, the federal share of all Medicaid payments would be converted to block grants to be allocated to the states.  The total dollar amount of the block grants would increase annually.
Repeal of Obamacare:  The Romney-Ryan budget: (1) repeals the requirement that most legal US residents obtain health insurance; (2) repeals establishment of health insurance exchanges and subsidies for some individuals and families who purchase coverage through the exchanges; (3) repeals expansion of Medicaid coverage to include most nonelderly income below 138 percent of the federal poverty level; (4) repeals penalties on certain employers if any of their workers obtain subsidized coverage through the exchanges; and (5) repeals tax credits for small business owners that offer health insurance.
Medicare Part D:  The Romney-Ryan proposal cancels the expanded subsidies aimed at closing the "Medicare doughnut hole."  This doughnut hole is a range of spending in which many Medicare beneficiaries are financial responsible for the entire cost of prescription drugs until the expense reaches the catastrophic coverage threshold.
The Ryan budget "will hurt hungry children, poor families, vulnerable seniors and workers who cannot find employment," the bishops wrote in an April 2012 letter to the House. "These cuts are unjustified and wrong."  Ryan responded that he was helping the poor by eliminating their dependence on the government but has failed to explain how he would make them self-sufficient.  At a time when state and local government layoffs are the major factor in unemployment, the Romney-Ryan proposal would cut aid to governments by at least 20 percent, far below historical levels, in addition to other cuts to mass transit and highway spending.
The Romney-Ryan budget proposal also cuts food stamps, now known as the Supplemental Nutrition Assistance Program, or SNAP, by 17 percent or $133.5 billion over a decade.  As the Center on Budget and Policy Priorities stated, there are only two ways to achieve that savings: Romney could simply take the benefits away from 8 million of the 47 million who now receive food stamps or he could cut everyone's benefits. For a struggling family of four, that would mean a loss of $90 worth of food a month.  Most people who get SNAP benefits use them up in the first two weeks of a month, and many turn to food banks by month's end. Cutting benefits so sharply would lead to a significant increase in hunger especially among children.  Compounding the problem is that those families would find themselves unable to pay for health care and they would face reductions in housing assistance, job training and Pell grants for college tuition, all of which the Romney-Ryan plan would cut.
At first blush, voters may applaud the idea of small government, but as the Romney-Ryan proposal is implemented, voters of all income levels would feel the effects such as plans to take away a new sewage treatment plant, asphalt for their streets, and the replacements for retiring police officers and firefighters.  All of the planned Romney-Ryan reductions are necessary for greater tax giveaways to the rich and extravagant benefits to powerful military contractors.
In addition to the Romney-Ryan proposal that assaults Medicare, we should be reminded that Ryan was one of the principle players to partially privatize Social Security after the Bush victory in the 2004 presidential election.  Moreover, Ryan voted for some of the biggest drivers of the deficit including the Bush tax cuts, the Iraq war, and the Medicare prescription-drug benefits, none of which were paid for.  Ryan also voted against the bipartisan Simpson-Bowles recommendations that would have significantly cut the deficit.
Ryan has never held statewide office and has absolutely no foreign policy experience which doesn't put him in an ideal position to assume the presidency should anything happen to Romney if elected.  Romney has criticized President Obama for not having private sector experience but the same is true of Ryan.  Ryan briefly worked for his family's business as a "marketing consultant," but for most of his adult life, he has spent as a congressman, congressional aide, or speechwriter/analysis at Jack Kemp's Empower America think tank.
Sixty-two percent of the Romney-Ryan budget proposal comes from low-income programs in addition to the substantial cut in spending already in place from last year.  But the Romney-Ryan budget does contain a substantial tax cut for Romney and the 1% which is probably the major reason Romney said he was "very supportive" of the plan. "It's a bold and exciting effort," he said, "and it's very much consistent with what I put out earlier." It is also consistent with his publicly announced lack of concern for the very poor.
The contrast between the Obama and Romney economic vision to create jobs and sustain the middle-class will be clear and voters will now be able to see with painful clarity just what the Republican Party has planned should Romney win the presidency.