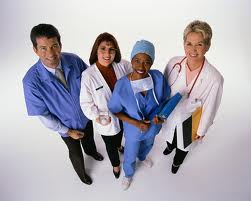 The Patient Protection and Affordable Care Act, Republicans call "ObamaCare," was signed into law on March 23, 2010.  This law passed the Senate on December 24, 2009, by a vote of 60-39 with all Democrats and two Independents voting for, and all Republicans voting against.  It passed the House on March 21, 2010, by a vote of 219-212, with 34 Democrats and all 178 Republicans voting against the bill.  ObamaCare is health care reform that focuses on health care funding, increasing coverage to over 33 million Americans, reducing cost, and removing the social burden that health care has become.  Republicans, especially candidates for President, continue to preach that ObamaCare adds to the deficit and bleeds jobs, and they pledge to "repeal" it once elected to the presidency.  However, among the 100,000 private sector jobs added to the economy in September 2011, the health care industry added 44,000 jobs with 13,000 being in hospitals and 26,000 in ambulatory services.
Republican presidential candidate Willard Mitt Romney continues to repeat a claim he has made in past debates — repealing the Obama health care law would save money — that has been refuted by nonpartisan fact checkers and analyses like those of the Congressional Budget Office.  Willard says that repealing the law would save $95 billion a year; however, the non-partisan Congressional Budget Office has projected that the health care law would actually reduce deficits by $210 billion in the first decade from fiscal year 2012 through 2021, given taxes, fees and health cost reductions mandated by the law.  That office also reported that legislation passed last year by House Republicans to repeal the law would increase deficits by the same amount.  Romney, of course, implemented similar health care legislation while Governor of Massachusetts.  He now believes that a government run health care system is good for his state but not good for the rest of the country.  Republican candidates should know that presidents cannot repeal legislation; only the Congress can do that.  So in the unlikely event that Willard becomes President, as long as the Senate or House is under democratic control, there will be no repeal of ObamaCare.
While the Congressional Budget Office has declined to put an exact figure on projected savings of the health care law beyond the first decade given the uncertainty of such long-range projections, it concluded that the savings would be in the range of half a percentage point of the nation's gross domestic product, a substantial amount.  The Obama administration has projected that the savings in the second decade will exceed $1 trillion.  The law accomplishes what it was designed to do yet Republicans want to abolish it.
Right-wing radio talk show host, Rush Limbaugh, has been one of the most vociferous opponents of the health care law warning that "human beings will die earlier than normal" under the "freedom killing" and "life threatening" plan, and calling for it to be "aborted."  During his radio program on March 9, 2010, Limbaugh said that "if this passes and it's five years from now and all that stuff gets implemented — I am leaving the country. I'll go to Costa Rica."  We'll see in 2015 if Limbaugh really moves to Costa Rica.
It seems hypocritical that Republicans are against government run health care yet every Republican in Congress is benefiting from a government run health care system and to my knowledge, none have forfeited their right to receive such coverage.  If a government run health care system is good enough for all congressional representatives, why isn't it good enough for middle-class America?  It may be more about replacing Obama as President than repealing ObamaCare, but that's just my take.
CLICK HERE FOR THE EASIEST REAL ESTATE GUIDE ON THE INTERNET
CLICK HERE TO LEARN HOW TO USE WEIGHT FAST