Our Numis mission is to help people around the world
live wealthier and happier lives.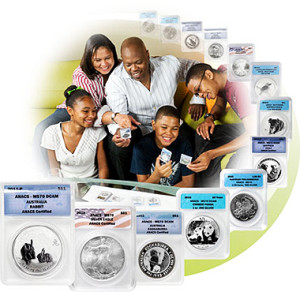 We all know that just about everyone collects something…
shouldn't it be assets?
Imagine the joy of building a collection that has real value and can be enjoyed not only today but for a lifetime – in fact, for generations.  We've made it simple and affordable to enjoy and accumulate collectible assets through our exclusive Numis Silver Coin of the Month Club.  Each month our members add a museum quality, perfect condition, certified and graded silver coin from the world's leading government mints to their growing collections. More than just being precious metal, these Numis coins are timeless works of art and history to be enjoyed and treasured by the whole family.
For about a hundred dollars a month our members add these beautiful treasures to their growing collections and at the same time take advantage of a revolutionary business program with substantial profit potential. What we are doing has never been done before in the network marketing industry. This business is fun and simple. In fact, we've developed a career path that is as simple as 1-2-3.
Our Fast Track Collector's kit provides all of the resources, including the entertaining Coins Are Cool video training series, to get you started. What we've accomplished at Numis Network is nothing short of phenomenal. We are pioneering the sale of graded silver and gold numismatic coins through the network marketing industry. The timing could not be better for you to position yourself in front of this massive trend! Join us on our global mission to help people create wealth, collect wealth, and preserve wealth with your very own collection of these valuable collectible assets and a profitable business of your own. Secure your position now, and capitalize on this new market category.
CLICK HERE for details.