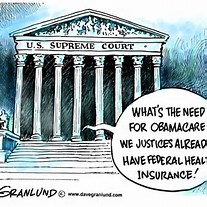 On June 30, 2014, in an astonishing male partisan 5 to 4 decision, the U.S. Supreme Court issued a decision in Sebelius v. Hobby Lobby Stores, Inc. that most companies do not have to cover contraception for their employees if the company has a religious objection to doing so.

Hobby Lobby Inc., a chain of arts and crafts stores, was founded by David Green in an Oklahoma City garage in 1972 with $600 in borrowed funds. Today, the family business has grown into more than 556 stores in 41 states – and 70 more scheduled to open in 2014 – with over 16,000 full-time employees. Yet the company remains closely held by family members. The Green family believes that "it is by God's grace and provision that Hobby Lobby has endured." Therefore they seek to honor God by "operating the company in a manner consistent with Biblical principles."

Hobby Lobby proudly touts itself as a Christian company that puts people over profits. However, some Christians say there is a gaping hole in that claim — namely, China. According to Mother Jones Magazine, products bearing "Made in China" labels are found all over the shelves at Hobby Lobby stores, evidence that much of its products come from Chinese factories that have a reputation for labor rights violations and very low wages. Employees at these facilities often end up working exhausting hours in appalling conditions and never earning enough to flee poverty.
"You cannot call your business 'Christian' when arguing before the Supreme Court, and then set aside Christian values when you're placing a bulk order for cheap wind chimes," wrote Christian author and columnist Jonathan Merritt in a recent article for The Week.
"Being Christians, we don't pay for drugs that might cause abortions, which means that we don't cover emergency contraception, the morning-after pill or the week-after pill," Hobby Lobby founder and CEO David Green wrote in an open letter in 2013. "We believe doing so might end a life after the moment of conception, something that is contrary to our most important beliefs."  Yet the company is contented with profiting from the business it does with China, critics argue, even though political conditions in that country have led to millions of abortions. Leslie Marshall, a radio host and born-again Christian, questioned Hobby Lobby's policies in a column for U.S. News & World Report in March, invoking the teachings of the "guy who started all of this." "As they say: What would Jesus do?" wrote Marshall. "He would remind Hobby Lobby that 'he that is without sin among you, let him first cast a stone.' Hobby Lobby should put its stones down."
In a 2013 blog post, Matt Chambers, the director of a non-governmental organization called SafeWorld, wrote that he disapproved of Hobby Lobby's relationship with China for religious reasons. "You see, when it comes to carrying high the banner of 'Biblical principles', I believe a company who wanted that to be their public persona would be extra careful to NEVER do business with the very people who go against everything they claim to fight for as Christians," Chambers wrote, according to The Christian Post.  Other Christian columnists, including The Christian Post's Josh Stonestreet, have defended Hobby Lobby, saying that working with Chinese manufacturers is different from working with the Chinese government. "Doing business in a place where evil exists is not the same as directly supporting that evil," wrote Stonestreet. "In fact, it may even be a force for good!"

Hobby Lobby has remained silent on this issue but in a column in the Rutland (Vermont) Herald in March 2014, Peter Dobelbower, the company's vice president and chief legal officer, provided some insight into Hobby Lobby's rationale for buying products made abroad: Those factories can't control what their governments do, so it's OK. "Our company sources from suppliers around the world," Dobelbower wrote in response to an earlier op-ed, calling for a boycott that had appeared in the same paper. "Virtually all Hobby Lobby's vendors are small entrepreneurial businesses without control over their government's abortion policies."

There is also China's contentious record on abortion. The country's one-child policy was slightly relaxed in 2013, but the family planning bureaucracy still exists. Since the government of china instituted the policy over 40 years ago, there have been over 330 million abortions, according to health ministry data cited by the Financial Times. Though fewer instances of forced abortion, infanticide and involuntary sterilization now happen because they are banned by the government, they still occur, the Washington Post reported last year. In addition, China is a communist nation and does not allow its people the freedom to worship. According to a recent annual report from ChinaAid (a Texas based organization that monitors religious freedom), persecution of Chinese Christians not only continues but has increased. There were 134 cases of persecution reported; many of its citizens fear retribution if they claim abuse.

Although the one child China policy was lifted in theory, abandonment and selective killing of female babies has continued. Forced abortion, although technically frowned upon by the government, is still a normal practice in China. Is the interruption of life creation only relevant as a Christian when it is an American life or does all human life count?
In a brief filed with the Supreme Court, the Greens object to covering Plan B, Ella, and IUDs because they claim that these products can prevent a fertilized egg from implanting in a woman's uterus, a process the Greens consider abortion. But researchers reject the notion that emergency contraceptive pills prevent implantation of a fertilized egg; rather they delay ovulation or make it harder for sperm to reach the egg. The Green's contention that the pills cause abortions is the fundamental basis of their argument for challenging the contraception mandate. However, for years, Hobby Lobby's health insurance plans covered Plan B and Ella. It was only in 2012, when the Greens considered filing the lawsuit, that they dropped these drugs from the plan. One might consider this action hypocritical.

Documents dated December 2012, filed with the Department of Labor three months after the company's owners filed their lawsuit, show that the Hobby Lobby 401(k) employee retirement plan held more than $73 million in mutual funds with investments in companies that produce emergency contraceptive pills, intrauterine devices, and drugs commonly used in abortions. In addition, Hobby Lobby makes large matching contributions to the company-sponsored 401(k).
For all of your bowling needs at discounted prices, visit www.shopbowlingsupplies.com, or www.qualitybowlingsupplies.com.  Balls, bags and shoes are shipped FREE in the US, and there are no other handling or other fees or charges added.